1.

Log in to your account using your

Username

and

Password

.

2.

Navigate to the file you want to annotate.

3.

Click on the file name to open the preview screen.

We support annotations for the following

file types

: doc(x), xls(x), ppt(x), pdf, txt, bmp, gif, jpg, jpeg, png, tif.

4.

Click

Annotate

if it's not already selected, and the annotations toolbar will appear below.
Highlight:

Makes text stand out with your choice of colors

Underline:

Underlines the text you select

Strikeout:

Strikes the text out with a line through the center

Squiggly:

For spelling and grammar issues

Note

: Add your comments here

Free Text:

Add text anywhere

Freehand:

Draw anything you like

Shapes:

Make lots of shapes

Rectangle

(or Square): Draw a box anywhere

Ellipse

(or Circle): Draw a circle anywhere

Polygon

: Make a custom shape

Cloud

: Add a familiar cloud symbol

Line

: Make a straight line

Polyline

: Make a series of connected line segments

Arrow

: Make a straight line with an arrow

Signature

: Digitally sign your name

Rubber Stamp

: Some pre-made stamps for common uses

Stamp:

Overlay an image file from your computer

File Attachment:

Attach another file to this one

Callout:

Easy callout template

Erase

: Erases Annotations but not the original document
Download the annotated file:
You can download in any of these locations:
In the top right corner of the preview window.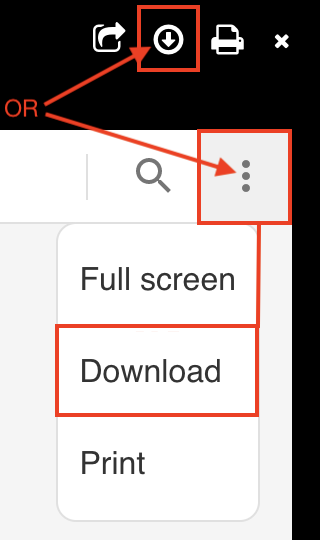 At the bottom of the page:

NOTE:
The annotated version will always be PDF format.
Download the original file:
Click on the down-arrow menu next to your file and select
Download without Annotations.